Fashion Outfit Pick: Date Night!
Monday, December 03, 2012
This is a Sponsored post written by me on behalf of
Express Canada
for
SocialSpark
. All opinions are 100% mine.

Ciao! While surfing the
Express holiday catalog
I somehow go to thinking about date nights. Not that I had any, but therotically
I could
. SO, decided to make two date night outfits out of the clothes I got from the grand opening. TWO outfits! One girly and one trendy. Pretty much in love with the trendy outfit which was put together last minute.. actually both were! Surprised how well they turned out. I also took this in the cold, it's winter here in Canada.. I'm here to validate your thoughts of my craziness! hehe :)
#1 Girly & Fun
The skater dress is one that I previously mentioned. It's really fun and really comfortable! If there's one thing about Express that I can't get over is how wonderful their clothes feel. I've lived by F21 for far too long it seems!
The back of the shirt is really cool, there is a peek-a-boo opening to show off your sexy back! I wore an updo to really take advantage of that. I paired it with a belt to extentuate my waist and chose pink to match my stockings.
(that white speck you see on my tights is FALLING SNOW! YEP)
#2 Trendy
My faaavourite! I love this outfit! I wore a python print blouse from Express. Which I saw and knew immediately I wanted to get it. My friends all gave me this squeezy eye look and I'm like, guys, you just have to know how to pull it off! I think I did quite well! Paired it with a maroon mini skirt; there is a tinge of pink in the blouse so it blends really nicely! *note, the blous is SHEER, so you'll want to wear something under. :)
I've been pinning these without realizing they're actually having a context with Pinterest! You can use their
gift guide
for ideas of what to pin. It seems like this winter there's LOTS of colour, no more boring neutrals, hello blues and puples! I've grown to really love royal blues.. shocking since pink and blue have been my least liked colour. Hell, I even want to keep the pink watch I bought for my sister myself!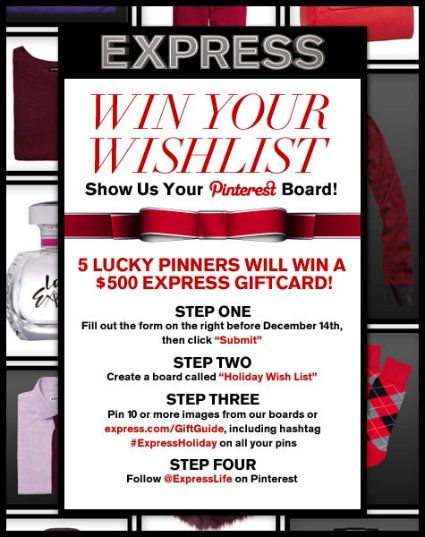 UM WHAT, EXCUSE ME WHILE I GO PIN MY WANTS! You have to enter you e-mail address and Pinterest url here ->
Express Win Your Wishlist Pinterest contest
Rules:
-Users pin items they love from Express' Gift Guide (
http://www.express.com/giftgui…
) or from the Express Holiday boards (
http://www.pinterest.com/expre…
)
-Five lucky pinners will win a $500 Express GiftCard
-Contest runs through December 14, 2012
Why do they have such a yummy prize?! $500 could get you so many pieces from the store too, I spent less than half of that at the grand opening and I got a lot of stuff! I always end up surfing the site and picking out things I want in the future.. am I the only one who does that?! There has to be some official name for that. Online ...window browser shopping? haha I COINED IT!! /not
So,
SHOW ME YOUR PINS
! Here is mine -> http://pinterest.com/missfeelo/holiday-wish-list/
Photos by: Kim Nguyen